Small Plates & Shareables
Crab Dip – A blend of sweet crab, cream cheese and a hint of Old Bay, served with pretzel sticks  15    Add extra pretzel sticks  3
Crab Bites – Pint-sized versions of our signature crab cakes served with fresh lemon and homemade cocktail sauce   15 
Calamari –  Lightly breaded and flash fried tender squid served with homemade marinara sauce  13
Steamed Shrimp – A half pound of large shrimp steamed with Old Bay and onions served with fresh lemon and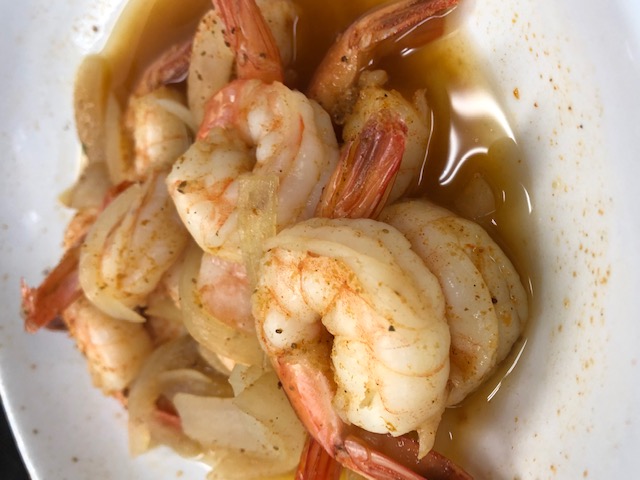 homemade cocktail sauce   15   
Chicken Tenders – Seasoned chicken tender fritters fried golden brown served with your choice of Buffalo, BBQ, hot bacon dressing or honey mustard  10                    Add fresh cut French fries 2
Fresh Cut Fries – Hand-cut in-house French fries cooked to order. Try them with Old Bay or malt vinegar!   5
Soups
Cream of Crab – Our signature blend of sweet crab, cream and sherry   cup 6 / bowl 8
Maryland Crab – Sweet crab in a tomato base with mixed vegetables  cup 6 / bowl 8
French Onion – Sautéed onions in a hearty beef broth, topped with homemade croutons and melted gruyere cheese  bowl 7                                                              
Sandwiches, Burgers & Wraps

Served on toasted brioche roll with lettuce, tomato,  fresh potato chips and a pickle spear unless otherwise stated.                                                            Substitute fresh cut French fries  2.  Substitute a croissant or pretzel roll  2
Crab Cake – Our signature broiled crab cake on a brioche roll   17  
Crab Melt – Our signature broiled crab cake topped with your choice of cheese on a toasted croissant   18
Crab Club – Our signature broiled crab cake topped with bacon and cheddar cheese on a toasted brioche roll  18
Chicken Caesar Wrap – Grilled or blackened chicken breast, romaine lettuce, parmesan cheese, and our Caesar dressing wrapped in a flour tortilla  14 
Chesapeake Chicken Melt – Grilled chicken breast topped with homemade crab dip, bacon and cheddar cheese nestled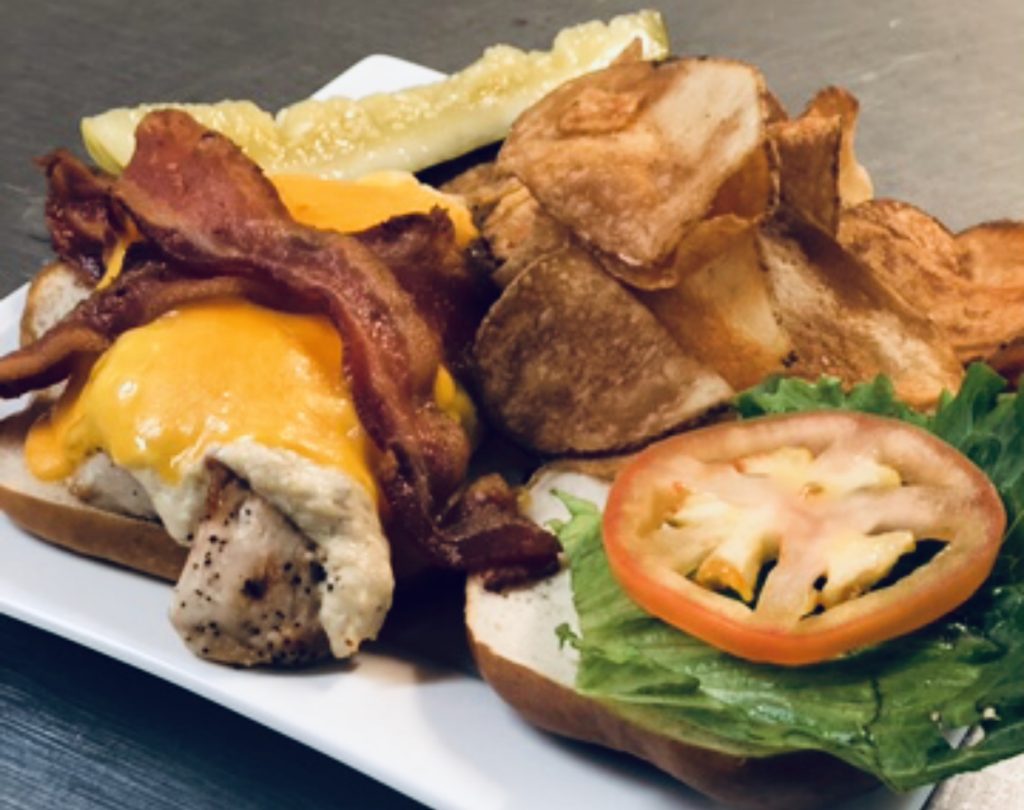 on a toasted pretzel roll   15 
Buffalo Chicken Wrap – Crispy chicken tossed in homemade Buffalo sauce with tomato, lettuce, gorgonzola and bleu cheese dressing wrapped in a flour tortilla 14 
Steak Burger – Blend of short rib, chuck and brisket grilled to your liking  15
Chesapeake Burger – Our steak burger grilled to your liking topped with homemade crab dip, bacon, and cheddar cheese on a toasted pretzel roll   17
Shrimp Salad – Tender shrimp with diced red onions, celery, a touch of mayo and a hint of Old Bay. Try it as a wrap or open faced   15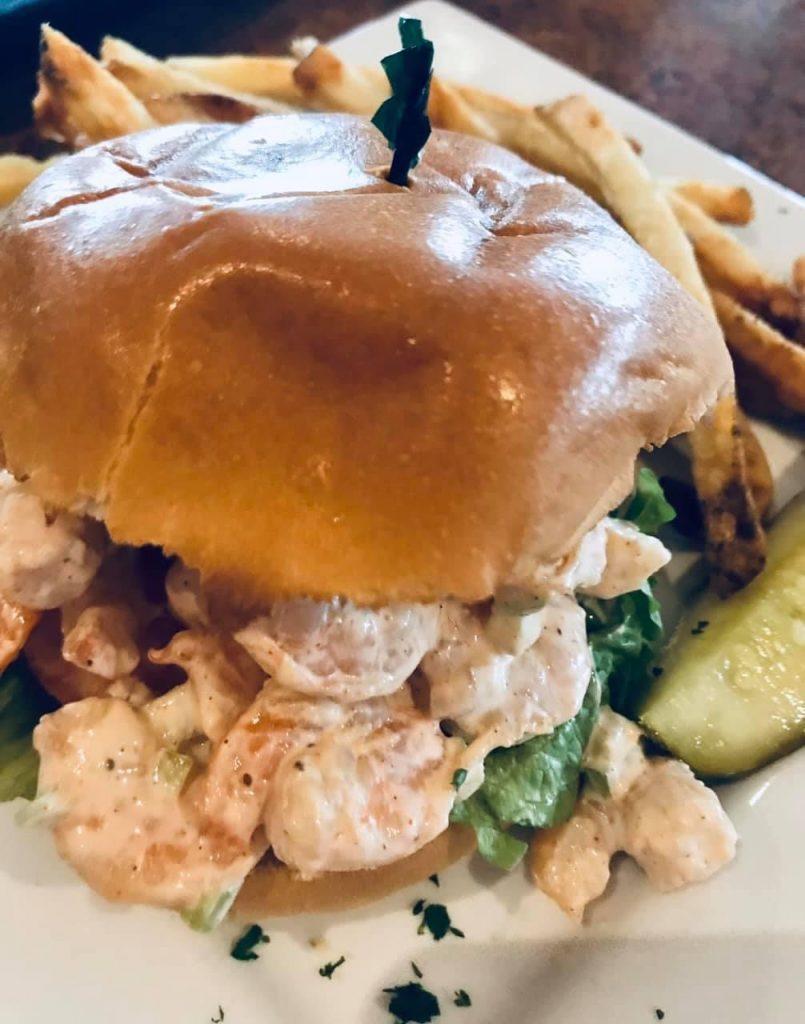 Add American, Swiss, cheddar, provolone, gorgonzola, mozzarella, sautéed onions, sautéed mushrooms, sautéed peppers or bacon  1
Salads

 
Tidewater House – Fresh mixed greens topped with tomato, red onion, cucumber, carrots, and sprouts with choice of dressing   11 
Spinach – Fresh baby spinach with crumbled bacon, mushrooms, hardboiled egg and hot bacon mustard dressing   12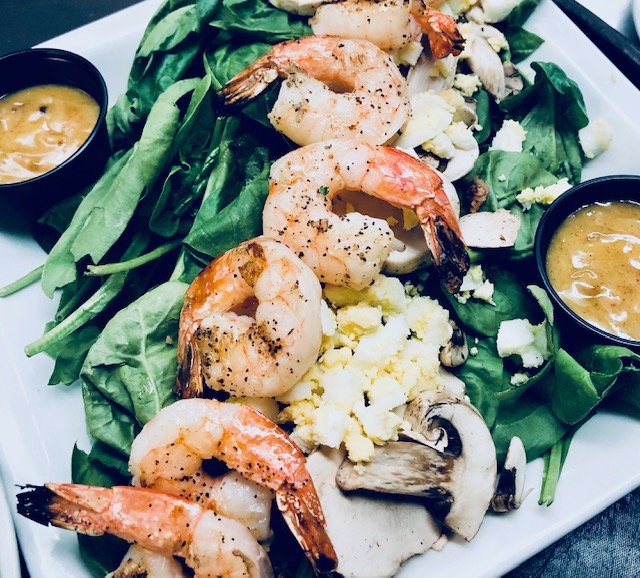 Classic Caesar – Crisp romaine lettuce, shaved parmesan cheese and homemade croutons tossed with our creamy Caesar dressing   12
Buffalo – Fresh mixed greens, crumbled gorgonzola, red onion, and tomato tossed in our homemade buffalo sauce.    Chicken    12  ~ Shrimp 17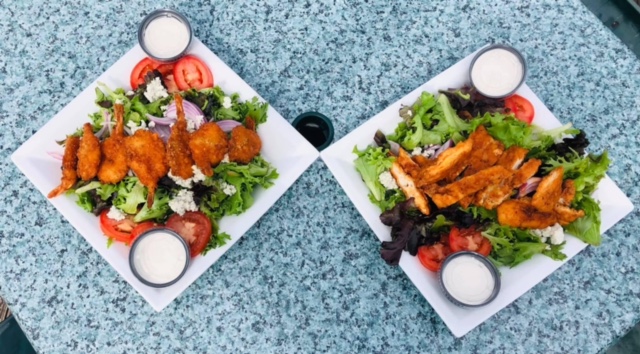 Salad Toppings
   Chicken breast, grilled or blackened   8     Shrimp salad,  fresh Salmon, jumbo shrimp, jumbo lump crab mea, broiled crab cake  12 ea.
   Salad Dressings
   Hot Bacon, Bleu Cheese, Ranch, Sesame Ginger, Balsamic Vinaigrette
Side Menu

 
House, Caesar, or Spinach Salad   5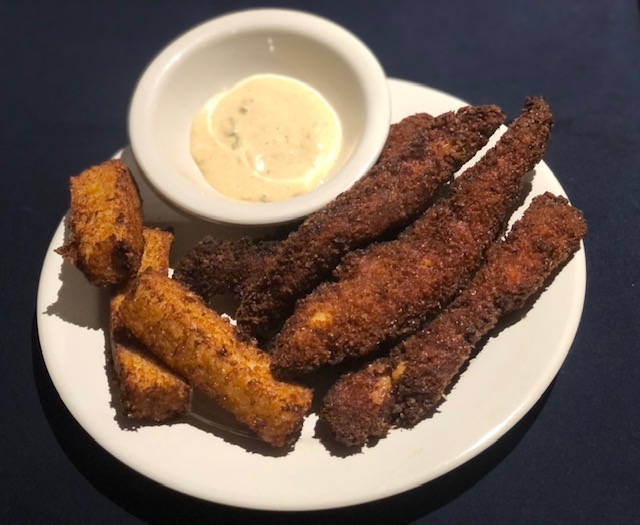 Baked Potato, Sautéed Vegetables, Wild Rice, Roasted Garlic Mashed Potato, or Cole Slaw   3
Pasta
Salmon Pesto  – Fresh salmon, grilled or blackened, nestled atop a bed of sautéed spinach with tomatoes in a creamy
pesto sauce tossed with fettuccini pasta   22 
Pasta Primavera – Fresh sautéed vegetable medley in an herb Alfredo sauce tossed with linguine and topped with a dollop of our own marinara sauce   16
Add chicken breast  8       Add jumbo lump crab meat or Jumbo shrimp   12
Seafood Aglio e Olio – Shrimp, scallops, and jumbo lump crab meat, lightly sautéed in extra virgin olive oil with garlic,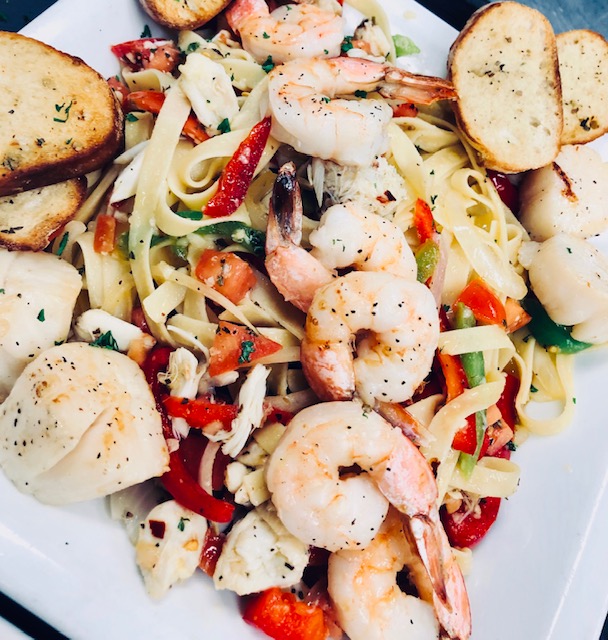 crushed red pepper, parmesan cheese, and diced peppers tossed with fettuccini  30 
Entrees

Served with your choice of two sides. Substitute one side for a side salad  3
Crab Cakes – Two of our signature homemade crab cakes broiled golden brown   30
Seafood Platter – Fresh salmon, sea scallops, jumbo shrimp, and a petite version of our signature crab cake broiled to perfection served with lemon and drawn butter  32  
Bay and Beef – Tender center cut 8oz. filet paired with our signature crab cake   55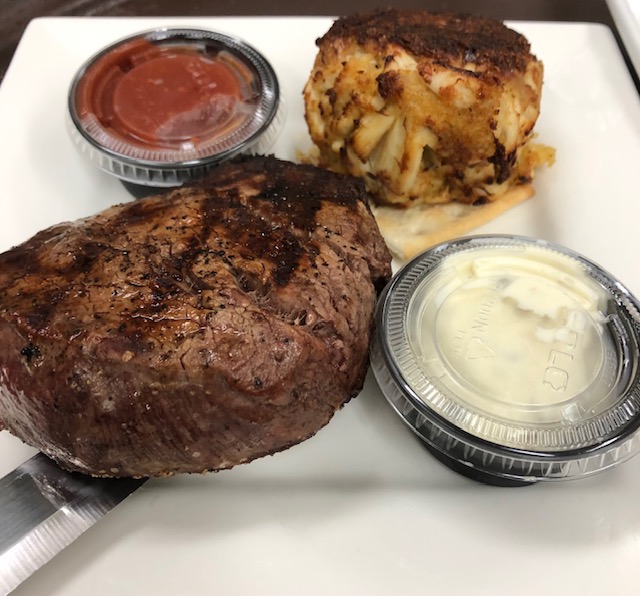 Salmon Florentine – Fresh salmon, grilled or blackened, nestled smothered with creamy sautéed spinach  22 
Filet Mignon – Tender center cut 8oz. filet cooked to your liking    48
   Add sautéed onions, mushrooms, peppers or gorgonzola cheese  2    Jumbo Lump Crab Meat or Shrimp  12    
Most menu selections can be made gluten free. Ask your server.